TO VIEW OFFICIAL WEBSITE FOR ANDREW J PEARSON
PLEASE CLICK
Andrew Pearson is a contemporary artist, based in Australia.
Since leaving Art School in the mid 80's, Andrew has maintained interest in a varied art practice including music, writing, photography and the making of short films.
Mixed media and painting on canvas has become Andrews' main focus.
Andrew employs the use of acrylics, gauche and epoxy resin, occasionally incorporating other media such as inkjet print of original Photoshop images, charcoal and graphite.
The resulting work is compelling, luxurious, often decadent. From the clarity of clean lines and rich colour to the rough immediacy of wall art/graffiti, finely textured brushwork and considered abstraction.
Epoxy resin is used to create a glass-like reflective surface, intensifying a sense of depth, giving the images an hallucinatory resonance.
Andrew maintains a significant thematic eclecticism. Luxuriously decorative and moody floral images, explorations of still life and interiors, bold text based pieces, abstracted cityscapes, post pop portraiture and deconstructions of contemporary culture, all represented in an increasingly extensive body of work.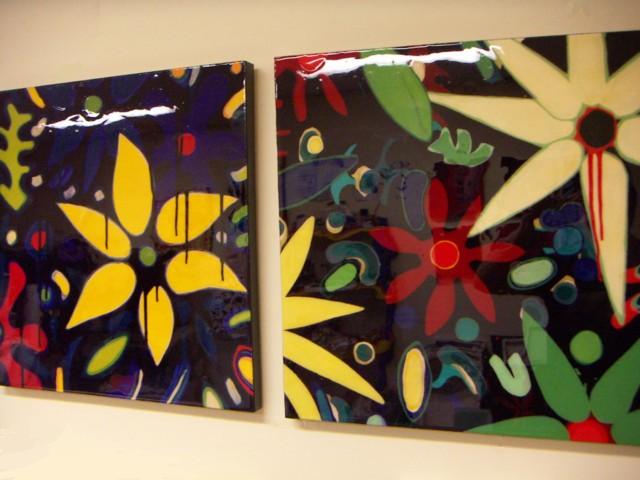 Acid Flowers #10 and #5. Acrylic and epoxy resin on canvas. (In exhibition)